There are a lot of website options: News website, Internet store, Blog, one-page website, landing page, Forum, there are whole subclasses of websites. And each is created with its own purpose. Placing goods and services, informative content and news, communication and discussion of issues, a huge number of options for business. In this article we will analyze this topic and know what is better for you – to order a website or to make it yourself.
Questions that arise when thinking about your own website
There are all sorts of cases when a person may need their own website. At the same time, the questions that arise in everyone's head are almost the same:
Create a website yourself or order from a webmaster / studio?
How much does it cost to make a website yourself?
How much does it cost to order a website?
How long will it take?
Where to begin?
Below we will answer these and the questions posed by us in the course of the research. Let's look at the dynamics of prices and quality, figure out who is more suitable for creating a website on their own, and for whom ordering a website from a studio / company / webmaster is a better way.
Depending on the goals and audience, the functionality of the website can also vary greatly. Landing Page and online store have fundamentally different functionality and fundamental differences in terms of code. In this article, we will analyze the simplest options for creating websites, paid and relatively free. We want to dispel the myth right away and say that there are no absolutely free and high-quality sites. And below we will analyze why!
Create a website yourself
This option may seem the simplest and most affordable. To implement it, you just need to choose a convenient CMS (content management system / website engine) or a constructor, take any of the available templates, edit it, add something, and you're done!
Alas, everything is not as simple as it might seem at first glance. Everything may end even earlier than you think, because there are many subtleties that need to be taken into account for the website to work correctly.
Here we will analyze the most common and simplest ways to create websites in Ireland. We will try to get away from coding and analyze both paid and "free" options. Let's take a look at the "pitfalls" that are encountered on the path of independent website development and analyze the Pros and Cons of this option. Let's figure it out.
Online constructors / Website builders
We remind you that all free ways to create a website are free only conditionally.
There is an incredible amount of advertisements on the Internet offering to create a website for free. We will consider this option using the example of the popular Wix Online Builder.
Typically, cloud builders like Wix offer limited basic, free functionality, or a trial period. They can have a lot of completely different solutions for any need.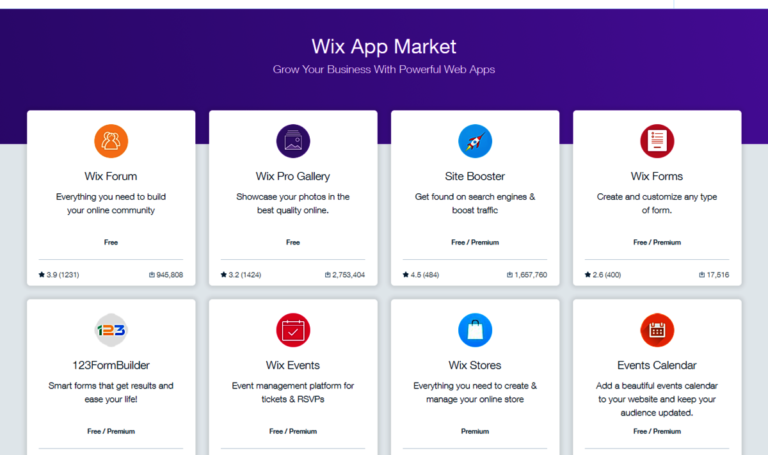 The method is quite simple, requiring no special knowledge, only an understanding of what should be obtained and some taste in the design. However, keep in mind that free features and periods are limited. In any case, you will have to pay for at least the domain name of the website, provided that the hosting is free, which is quite rare.
Let's take a look at the pricing plans we selected for our research on the online Wix builder.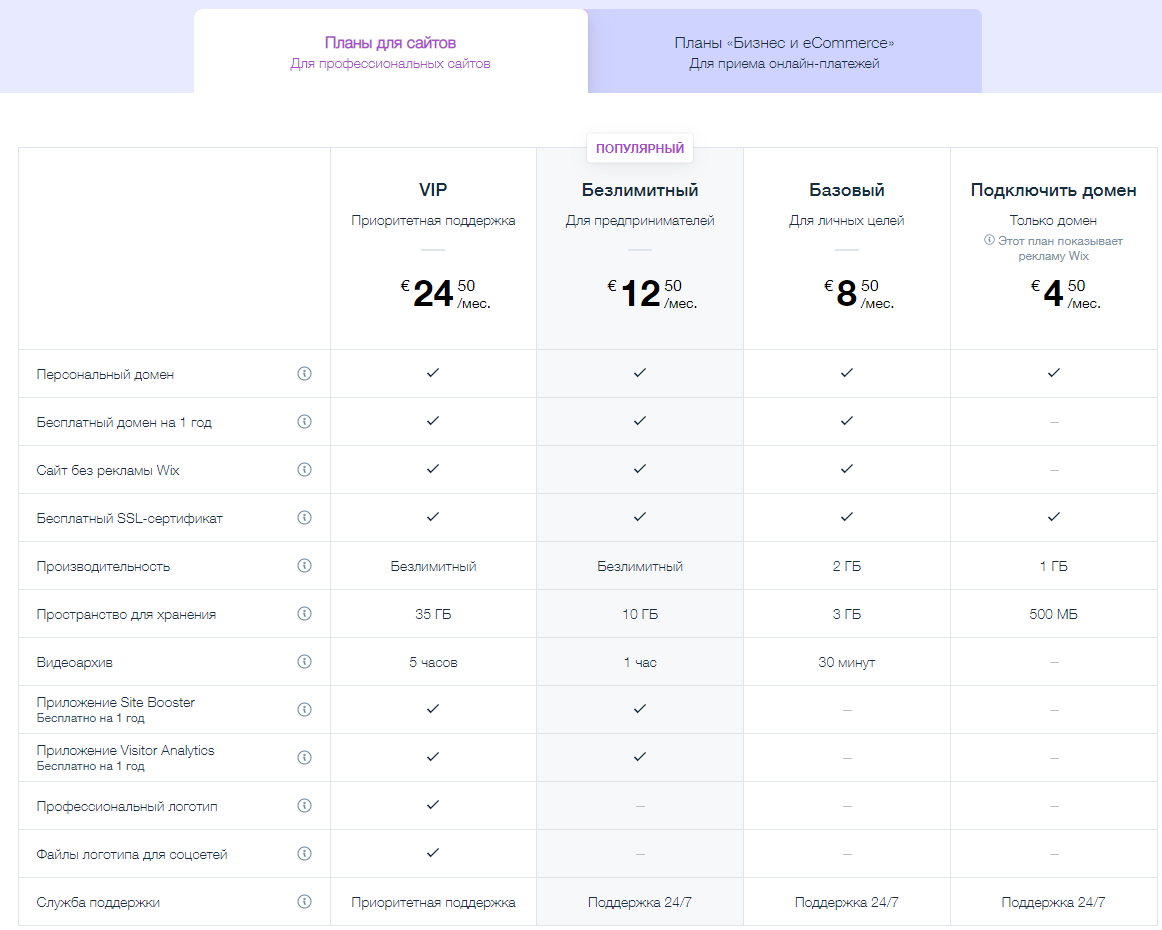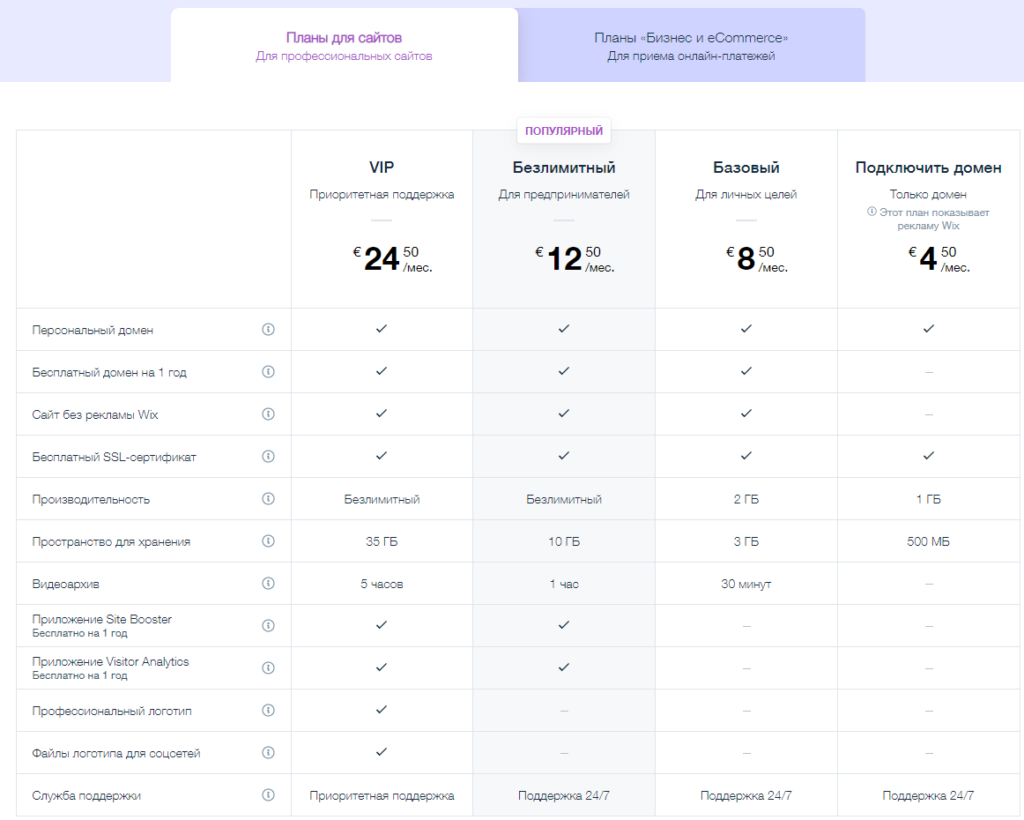 As we can see, creating a website without the ability to accept online payments will cost you at least 8.50 € per month. And only the domain located on their server will cost you 4.50 € per month. It turns out that a year of website content on Wix, given that you will add everything you need by yourself, will cost you from 104 € / year to 294 € / year.
What about online shops?
One of the advantages of this solution will be the lack of hassle with setting up online payments, but for this you will have to pay from 204 € / year to 420 € / year.
A lot or a little – decide for yourself, and we move on!
It is important to mention that these are the prices of the standard plans. If you need to create a site with more flexible functionality, add special features by type: integration of a warehouse program, login to the site by ID, registration for services and prepayment, you may encounter a number of problems. Lack of solutions and lack of choice of solutions, the need to understand everything yourself.
An important factor is that for many special features you will have to pay an additional price to your subscription.
Create a website from scratch
This option includes a lot of conventions. Although it can be called shareware, for a server (hosting) and a domain name, depending on the plan and registrar, you will have to pay about 60 euros per year. For maintaining the website. It may also be necessary to purchase licenses for various software applications, the price of which can vary greatly.
With all this, do not forget about the most important resource spent – time.
In terms of price, we covered this option above. In terms of time, everything depends on you. There are a lot of methods of developing websites from scratch these days. It is almost impossible to deduce the average time spent on creating a website from scratch, for each person individually. There are too many factors: free time for this, the level of initial knowledge in this area, interest and much more.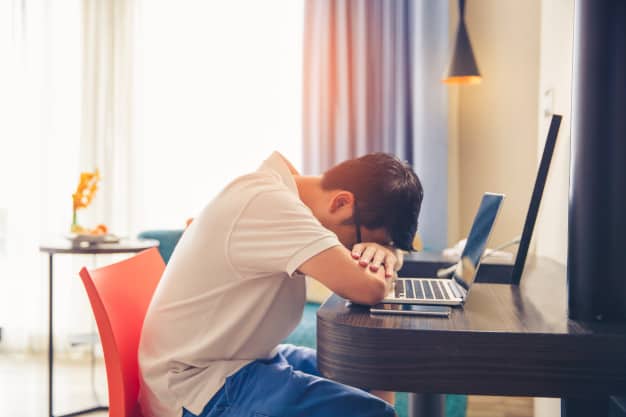 Lack of proper skills will call you to make only the simplest, standard site on all known templates, which will look at least not presentable.
Thus, it turns out that the most expended resource when creating a simple website from scratch, with your own hands, is time.
How expensive it is – everyone decides for himself, and we move on!
Order website development
So we came to the last option – to order the development of the website.
You can order website development from a freelancer, studio or agency, a company engaged in web-design development.
The main difference between this option and the previous ones, in simple words, is that here you practically do not waste your time and after the expiration of the agreed period you get a ready-made website for your use!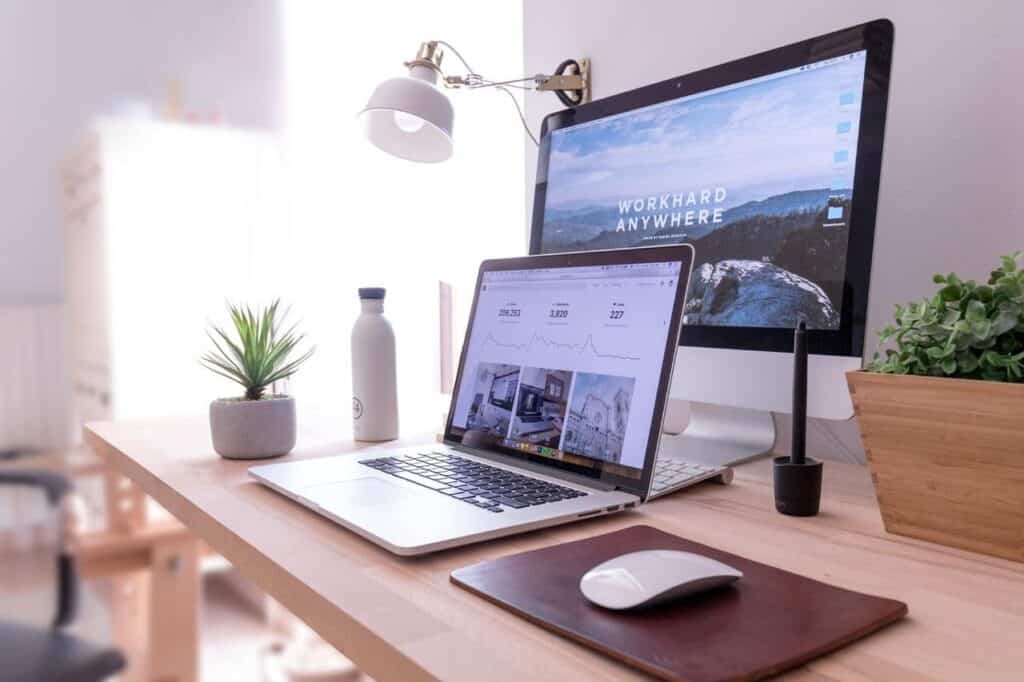 This option is undoubtedly the most expensive in terms of permanent cost. There are some tips to which we advise you to heed if you want to get the result you want!
The first tip is to talk to the executor of your order. An important factor is how easy it is for you to communicate with the executor of the order, how exactly he understands you.
The second tip is to research the potential artist's website and look at the portfolio. You must like his work.
The third tip is to choose the payment option in installments, so that you can understand the process of developing a website more clearly and you are aware of everything that is happening.
The fourth tip – take an interest in advance by asking the webmaster about how he will teach you how to use the website. We believe that teaching the client to use his website is just as important as the complete transfer of the website and everything connected with it to the client.
Summing up this option.
Since most web-studios develop the design of their clients' websites from scratch, this increases the individuality of the website, its attractiveness and ease of interaction with it. The price will always depend on your order. The amount of content required on the site, the size of the website, the capabilities that will be available to you and your website visitors. In most cases, you pay a certain amount, which includes the cost of hosting and domain name. In the pluses, you can also write down training in using the website and the absence of the need to understand the settings, optimization and security of your website.
Summing up our research, we have the following picture:
By creating a website with the help of online constructors, you can create a simple website or an online store, which will cost you 104-700 euros per year. The annual price is 2-6 times higher than in the next two options. In this case, you will have to do everything yourself, understand and configure, which will take an indefinite amount of your time.
By creating a website from scratch, your costs will be less than with the first option, while the time costs will increase significantly.
By contacting a web developer, you will save your time and entrust the work to a professional. The permanent cost will be higher than in other options, but in the long term you will pay much less than creating a website using an online builder.
In general, everyone decides and chooses the best option for themselves, based on budget, time and skills.
The most important thing is that the work is done with high quality, satisfies your needs and benefits you and your business!